True Story: Why We Turned This Deal Down
This is about a deal my angel group turned down.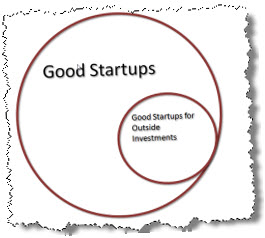 The software looks excellent. I wanted to use it immediately. There's urgent and widespread market need. It's obviously proprietary too. It's a crowded noisy market, but it feels like this one has a real shot at it. Furthermore, the entrepreneur behind it is proven. The software grew out of the needs of a successful professional service business. There's relatively low risk of failure.
So why did we turn it down? Because this one doesn't need our investment. It's quite possibly better off growing on its own bouyed by the resources of that professional service company. The entrepreneur could get it past cash flow break-even and continue growing so it would never look back.
We don't want to end up with a minority share of a company that has no incentive to exit. Not all good businesses are good investments.
Written by Tim Berry
prev
next
You might also be interested in
So you've developed a game-changing product, formed a business with a killer team, quit your job, and are rolling the product out to market. Your business is the next unicorn, and all is good in the world. Fantastic. Now only one thing is inhibiting your company's growth: you have no money.
For many founders of high-growth startups, bootstrapping has limits.